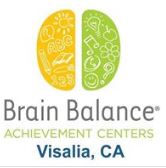 At Brain Balance Visalia we understand the pain and frustration of watching your child struggle with learning or behavioral issues. Brain Balance centers around the country, have helped thousands of kids overcome their challenges. Our ground breaking program provides lasting results because we don't simply work with a child's strengths or compensate for a weakness, we tackle the root cause of the issue.
Our unique Brain Balance Program® addresses the whole child by integrating sensory motor training and stimulation and academic activities with nutritional and dietary guidelines. This unique integrated approach is key to what makes Brain Balance different and so effective
Our individualized approach begins with our comprehensive Personalized Assessment process measuring in your child multiple points of Sensory Motor and Cognitive Neurological functioning. Once the assessment is complete, it becomes the roadmap to determine precisely what areas in your child's brain need stimulation and growth. Your child's individual program is then developed specifically to strengthen and balance all aspects of sensory motor and cognitive development.
We invite you to visit our center for a personal tour. You can observe our program in action, meet our dedicated team and learn more about the many children we hope to help right here in our community.
Categories: Health & Empowerment
5123 W. Walnut Ave.
Visalia, CA 93277